Dalwhinnie 15 Years Old
Tasty Tastings Episode 81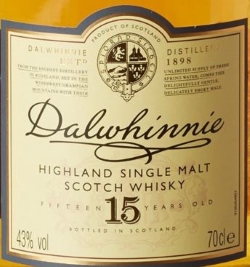 The release of the Dalwhinnie Winter's Gold was already several months ago, but before we get to that one, let's have some good ol' Dalwhinnie 15 Years Old first!
Facts
Nose
Sweet and fresh with grassy and malty undertones. A thick layer of heather honey combined with a distinctive fruitiness of red apples, green pears and peach skin. With some time, hints of vanilla and toffee emerge. And I don't know why, but I am never find the promised "hint of Highland smoke".
Taste
More heather honey, combined with hints of vanilla. A few lemons. Some rose pepper towards the end.
Finish
Medium and spicy with lingering heather. Dry grass and bitter orange peel.
Overall
This is obviously not the most complex expression every made, but I think it's better than the reputation it has. A solid daily dram and a good starting point for "whisky beginners".
Score: 82 / 100