Ardbeg Galileo
Review #239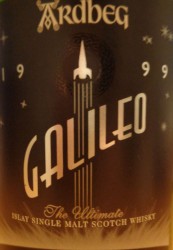 Next up is the Ardbeg Galileo, named after the 17th Italian astronomer, physicist, engineer, philosopher, and mathematician Galileo Galilei. Since Ardbeg released this bottling to celebrate their first ever experiment in space, the name seems like a good fit.
This 12 year old expression was matured in a mix of ex-bourbon barrels and some ex-Marsala casks from Sicily.
Facts
| | |
| --- | --- |
| Name: | Ardbeg Galileo |
| Vintage: | 1999 |
| Bottled: | June 2012 |
| Age: | 12 Years Old |
| Category: | Single Malt Scotch Whisky |
| Distillery: | Ardbeg |
| Cask Type: | Ex-Marsala and Ex-Bourbon Casks |
| Number of Bottles: | 15,000 |
| Strength: | 49.0% vol. |
| Colored: | No |
| Chill Filtered: | No |
Nose
Sweet and creamy, but not that peaty for an Ardbeg. Hot chocolate with whipped cream. Pineapples, bananas and lemons. Pencil shavings. Hints of vanilla and popcorn.
Mouth
A bit all over the place. Peaty and zesty, but also dry and fruity. Peaches, tea leaves, pepper, lemons and apricots. A few walnuts, too.
Finish
Long, dry and spicy. Peat smoke with hints of fruits and salt.
Thoughts
The nose is great, but the palate is kinda weird. Not in a bad way, it's just a bit inconsistent in my opinion. That said, I like the general sweetness of this expression, although I guess it's a bit too sweet for the Ardbeg purists.
Score: good but not exceptional (86 / 100)