SPEY Tenné
Tasty Tastings Episode 97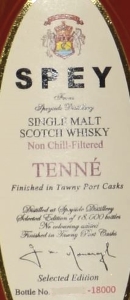 Alright, the second one for today is the SPEY Tenné which is finished in "freshly emptied" Tawny Port casks for 6 months after an initial maturation in ex-Bourbon barrels. I read that the initial maturation period is at least 8 years long, but don't quote me on that.
By the way, Tenné is another name for Tawny and describes a light brown to brownish-orange color. Maybe you knew that already, but I had to look that one up as non-native speaker.
Facts
| | |
| --- | --- |
| Name: | SPEY Chairman's Choice |
| Age: | NAS |
| Category: | Single Malt Scotch Whisky |
| Distillery: | Speyside |
| Cask Type: | Tawny Port Finish |
| Number of bottles: | 18,000 |
| Strength: | 46.0% Vol. |
| Colored: | No |
| Chill Filtered: | No |
Nose
Fresh with the sweet smell of fermented strawberries. Then gooseberries, raspberries, red apples and stewed bananas alongside lots of sweet malt. Vanilla pudding, white honey, hard caramel and strawberry toffee. Pretty nice altogether, although the alcohol isn't that well integrated.
Taste
Sweet and fruity but also rather bitter and alcoholic. Reminds me of strawberry liqueur with a tea spoon of honey.
Finish
Medium with lots of bitter oak. Milk chocolate, strawberries and herbal toothpaste.
Overall
Decent but not that tasty. Seriously, the nose is pretty good, but all the rest is rather disappointing. It's just too immature and uneven for my liking.
Score: average but worth a try (77 / 100)
Sample provided by Caminneci – Wine & Spirit Partner