Balcones Baby Blue (BB 14-1)
American Monday Episode 1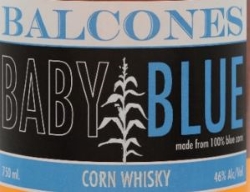 Baby Blue was the first Texas whisky on the market since Prohibition. It is made from roasted blue corn.
Facts
| | |
| --- | --- |
| Name: | Balcones Baby Blue |
| Distillery: | Balcones Distilling |
| Batch: | BB 14-1 |
| Bottled: | 10/01/2014 |
| Category: | Corn Whisky |
| Strength: | 46.0% Vol. |
| Colored: | No |
| Chill Filtered: | No |
Nose
Some difficult to pin down sweetness in the foreground. Some soft notes of honey and toffee but also with a certain sourly touch to it. Reminds me almost of sweet balsamic vinaigrette. In the background corn chips, corn syrup and corn bread. Also some hints of toasted oak. Overall a rather light and not utterly complex aroma.
Taste
A rather mild palate entry. Sweets and sweetish apple. A pretty strong spiciness develops. Chili peppers. Also some light nutty taste of hazelnuts. The spiciness  now steps back to make space for salted caramel and burned popcorn.
Finish
middle to long, again a bit spiciness paired with some sweetish nuances.
Conclusion
For sure very different and interesting but not really convincing to me. Just a bit too inconsistent and immature for my taste. Not bad my any means but still a bit away from being good.
Score:  69 / 100