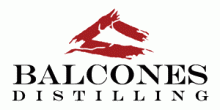 | | |
| --- | --- |
| Region: | Texas (USA) |
| Founded: | 2008 |
| Status: | Active |
| Owner: | Chip Tate |
2008: Chip Tates founds the Balcones distillery. The whole equipment is manufactured by Tate and his partners. Also the whole manufacturing process takes places on site. Moreover Balcones is the first distillery to use blue corn for distillation.
2013: In order to celebrate the distillery's 5th anniversary four single barrel bottling are released: a straight Bourbon, Brimstone Resurrection, a Straight Single Single Malt and a Straight Corn Whisky.
2015: A new distillery will be opened 5 blocks from the current one to meet rapidly increased demand for Balcones whiskies.
Tasting Notes:
All other brand names and trademarks are the property of their respective owners and are used for descriptive purposes only.