Heaven Hill 2001 Port Cask Finish (MoS)
American Monday Episode 23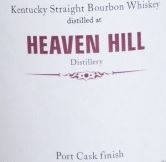 On to the next Heaven Hill bottled by Malts of Scotland. Although neither the Heaven Hill 2005 nor the Heaven Hill 2001 Sherry Hogshead were huge revelations to me, I liked them both just fine. That being said, I am really excited for today's Heaven Hill 2001 Port Cask Finish. I love bourbon and I love port cask finishes. The only question I have is: can both work together?
Facts
| | |
| --- | --- |
| Name: | Heaven Hill 2001 Port Cask Finish |
| Bottler: | Malts of Scotland |
| Vintage: | 2001 |
| Bottled: | 2015 |
| Category: | Kentucky Straight Bourbon Whiskey |
| Distillery: | Heaven Hill |
| Cask Type: | Port Cask Finish |
| Cask No.: | MoS 15063 |
| Number of bottles: | 258 |
| Strength: | 52.8% vol. |
Nose
A pleasant interplay between fruits (blackberries, currants, strawberries and dark cherries) and fresh brownies with caramel sauce. Candied lemon peels. Hints of green herbs and fresh oak.
Taste
Starts pretty spicy but gets sweeter and fruitier after a few seconds. The port cask dominants now. Again red fruits, most noticeable cherries. A bit sour around the edges. Dark chocolate followed by caramel.
Finish
Medium. Sweet and sour at the same time with a bit of oak.
Overall
To answer my initial question: yes, they can! This is obviously not your typical bourbon but a very pleasant change for sure. The nose is a real highlight. Only the finish could use a little more depth and finesse.
Score: 88 / 100