Images of Bartstown 'Main Street of Bartstown' (MoS)
American Monday Episode 24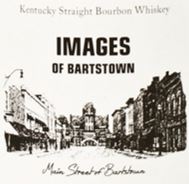 Besides the three bourbons from Heaven Hill I already reviewed, Malts of Scotland also released a fourth bourbon called Images of Bartstown 'Main Street of Bartstown' as part of their Image Series. The expressions in this series are labeled without the distillery of origin and have no age statement, but they are always uncolored, un-chillfiltered and bottled at 53.2% ABV.
So where does this bourbon come from? First off, I think it unlikely that it comes also from Heaven Hill, because otherwise MoS could have just printed that on the label, besides the fact that Heavens Hill actual distillery is not in Bardstown but in Louisville. Which brings me directly to my next point: the 'misspelling' of the town's name is most likely a direct hint to the distillery in question.
Facts
| | |
| --- | --- |
| Name: | Images of Bartstown 'Main Street of Bartstown' |
| Bottler: | Malts of Scotland |
| Bottled: | 2015 |
| Category: | Kentucky Straight Bourbon Whiskey |
| Number of bottles: | 278 |
| Strength: | 53.2% vol. |
Nose
Fresh wood, but not necessarily oak. Lots of strawberries followed by more red fruits, most noticeable cherries. Warm caramel, buttered toast and nougat.
Taste
Who put pencil shaves into my fennel tea? Gets more syrupy now. Sugared lemon juice followed by black coffee, tobacco leaves and dark chocolate.
Finish
Medium and drying. Mint combined with fruity hints and ginger.
Overall
The focus here lies more on the spirit, but this is exactly what makes this bourbon so interesting and different from other ones. Definitely for everyone who wants to try out a more 'naked' than usual bourbon.
Score: 86 / 100