High West Double Rye (Batch 12B29)
American Monday Episode 26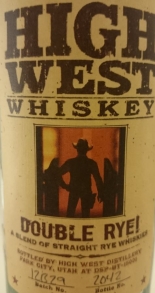 The High West Double Rye is a blend of two straight rye whiskies: a "feisty" 2-year-old (95 % rye and 5% barley malt) and a "saddle smooth" 16-year-old (53% rye and 57% corn). The one important thing to note is that the Utah-based High West Distillery is a relatively young distillery (founded in 2007) which doesn't release its own whiskey yet, at least to my knowledge. Instead, they buy already matured whiskey and blend them. So in the case of the Double Rye, the 2-year-old comes from the contract distillery MGP Ingredients (formerly Lawrenceburg Distillery Indiana), and while the origin of the 16-year-old is not official revealed, it comes from the Barton 1792 Distillery (Bardstown, KY), according to The Complete List of American Whiskey Distilleries & Brands.
Facts
| | |
| --- | --- |
| Name: | High West Double Rye |
| Category: | Blended Rye Whiskey |
| Cask Number: | Batch 12B29 |
| Strength: | 46.0% vol. |
Nose
Very "green" and "gin like" at first — eucalyptus, menthol and peppermint, herbs, pines and firs. Then vanilla and dried fruits (peaches and apricots) come through, together with freshly polished leather.
Taste
The taste resembles the aroma. A mixture of menthol, peppermint and eucalyptus candies, followed dark honey and white pepper alongside hints of citrus fruits.
Finish
Long and drying. Sweet honey, spicy oak and even more peppermint.
Overall
I think that blending a very young rye with a rather old rye is a great concept, but I'm not totally convinced by the result. Its just too "botanical" for me, but I guess some people might enjoy that.
Score: 80 / 100