Talisker Neist Point
Peaty Friday Episode 26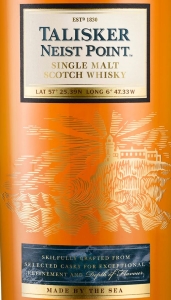 The latest addition to Talisker's travel retail range was named after the most westerly point of Skye: Neist Point (pronounced Neest). Which looks like this:
Such a beautiful looking place! Anyways, let's see what Talisker respectively Diageo has to say about the Talisker Neist Point, which I am paraphrasing:
Using some of the distillery's rarest and smoothest stocks, Talisker Neist Point has a more 'elegant' and 'smooth' character, showcasing the broader flavor range and complexity of this award-wining island malt.
Now this made me chuckle, because probably the last thing I personally want from a Talisker is "smoothness". But it gets even better. Because in case you were wondering why this bottling comes without an age statement but with a pretty hefty price tag (the RRP is £115 / $179 / €147), here is the answer:
Research shows that duty-free whisky purchasers are more concerned with taste (and smoothness), than age or price.
I think that this is a very oversimplified, if not downright ridiculous, generalization, although I am not your average duty-free whisky purchaser for sure. I mean yes, if you would ask me "Yo Chris, what's the most important to you: taste, age or price?", my answer would be probably: "To me, the taste is the most important thing without a doubt, because if I don't enjoy the whisky in front of me, age and price don't mean a thing. BUT age isn't just a number for me, especially if you want me to pay a lot of money for your whisky. So if you want to go further down that NAS route with a new luxury bottling in order to become the most sold single malt whisky in the duty-free sector, give me at least a little bit more to work with."
Facts
| | |
| --- | --- |
| Name: | Talisker Neist Point |
| Bottled for: | Travel Retail |
| Bottled: | 2015 |
| Age: | NAS |
| Category: | Single Malt Scotch Whisky |
| Strength: | 45.8% vol. |
| Colored: | Yes |
| Chill Filtered: | No |
Nose
Soft, smooth and pretty fruity at first. Apples, pears and white peaches with custard, alongside caramelized cherries and soft touches of oranges and bananas. Then a BBQ party at the beach: sea salt, bonfire, embers and ashes, barbecued salmon and smoked oysters. The only thing I am really missing is the signature peppery touch.
Taste
Initially very soft and sweet, with only a light peated smokiness. A delicate balance between caramel with sea salt and black pepper corns. The spiciness gets less after a while and makes place for apples, apricots and oranges, together with vanilla pods and some cinnamon. Gets creamier towards the end.
Finish
Long. Soft and warming with a honeyed sweetness. Lingering coal smoked joined by dark chocolate and some wood ashes. And yes, there is also a tiny bit of pepper, but no real 'chili catch'.
Overall
Much to my surprise, I have to admit, that the Talisker Neist Point, though grossly overpriced, is indeed very good! Could be more edgy for my taste, but I really liked the smooth, appealing, harmonic and elegant character of this expression.
Score: 87 / 100