Benromach 100° Proof
Review #224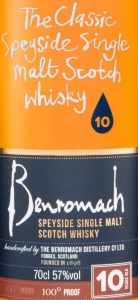 Further it goes with the Benromach 100° Proof. Just like the Benromach 10 Years Old, this expression is matured for nine years in a mix of bourbon (80%) and sherry (20%) casks before it spends its final year in first fill Oloroso casks, but unlike the standard edition, its bottled in the old imperial measure of 100° proof, which equals to 57% ABV. So it's actually the 10 Years Old on steroids if you will.
Facts
| | |
| --- | --- |
| Name: | Benromach 100° Proof |
| Age: | 10 Years Old |
| Category: | Single Malt Scotch Whisky |
| Distillery: | Benromach |
| Cask Type: | Bourbon & Sherry Casks |
| Strength: | 57.0% Vol. |
| Colored: | No |
| Chill Filtered: | No |
Nose
A great combination of stewed fruits and sweet apple wood smoke. Apples, kiwis and plum jam alongside licorice and sweet mustard. Fresh oak and furniture polish as well as hints of menthol and vanilla beans. Way more "American" than the standard edition.
Taste
Dry, dusty and very spicy. Sweet medicine and light earthy smoke, followed by plums, oranges, bananas and sugar with cinnamon. Hints of vanilla and sweet tobacco.
Finish
Long and dry. Oak, cooked bananas, bitter oranges, cinnamon and a whiff of menthol.
Overall
Another superb Benromach! I'm not sure if it's actually "better" than the standard edition, but it's really, really good for sure.
Score: very good and highly recommended (89 / 100)