Benromach 10 Years Old
Review #223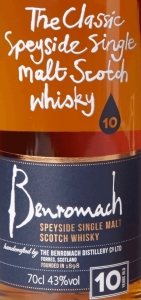 I was pleasantly surprised by the Benromach 5 Years Old, but let's see what the Benromach 10 Years Old has to offer. Like it's younger brother, this expression is matured in a mix of bourbon (80%) and sherry (20%) casks, but unlike it's younger brother, it spends its final year in first fill Oloroso casks.
Facts
| | |
| --- | --- |
| Name: | Benromach 10 Years Old |
| Age: | 10 Years Old |
| Category: | Single Malt Scotch Whisky |
| Distillery: | Benromach |
| Cask Type: | Bourbon & Sherry Casks |
| Strength: | 43.0% Vol. |
| Colored: | No |
| Chill Filtered: | No |
Nose
A really, really complex nose for 10 year-old. Kinda fruity with green apples, peaches, oranges and plums, but the fruitiness is rather stewed than fresh. Sweet, but not overly sweet sherry comes to the foreground. Next come chocolate fudge, almonds with powdered sugar and dark chocolate cookies, joined by freshly polished leather shoes and wax paper. Maybe some very light peat smoke in the background.
Taste
Full-bodied and medium sweet. At first pretty smoky and phenolic, but gets fruitier over time with oranges, sultanas and honey. Perhaps one or two black pepper corns, but not more.
Finish
Long. Smoky and grassy with sweet sherry, soft wood and hints of salt. A bit peppery around the edges.
Overall
I am not exaggerating when I say that this is probably one of the best "standard whiskies" out there. In fact, it's probably also better than some of the older whiskies I had so far. What a stunning and pleasantly old-fashioned dram. Fantastic!
Score: very good and highly recommended (89 / 100)