Benromach 5 Years Old
Review #222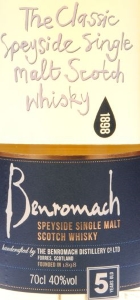 This might be old news to you, but in case you aren't following me on Facebook yet: I am going to attend the Tweet Tasting of Benromach's brand new 35 Year Old bottling tomorrow (10th March). The event starts at 8pm CET and is hosted by The Whisky Wire. My twitter handle is (surprise, surprise!) @dramlicious and you can follow the action under #Benromach35. Needless to say, I am super pumped! And since I don't want to be completely clueless tomorrow, I prepared myself a bit.
Alright, the first one for today is of course the Benromach 5 Years Old. How refreshing to have a young single malt that doesn't hide its age behind some fantasy name! Anyways, this expression is matured in a mix of bourbon (80%) and sherry (20%) casks and is meant to replace the old Benromach Traditional, at least from what I understand.
Facts
| | |
| --- | --- |
| Name: | Benromach 5 Years Old |
| Age: | 5 Years Old |
| Category: | Single Malt Scotch Whisky |
| Distillery: | Benromach |
| Cask Type: | Bourbon & Sherry Casks |
| Strength: | 40.0% Vol. |
| Colored: | No |
| Chill Filtered: | No |
Nose
Fresh, clean and appealing. Very lemony at first with a good portion of peat ash and some grassy undertones. Then more fruity with red apples and mandarins. A sweet touch of caramel, white honey, soft nougat and sweet cereals.
Taste
Surprisingly oily. Really nice notes of fresh fruits and sweet malt. Red apples, vanilla and a bit of pepper. Some light hints of peat smoke.
Finish
Not too short. Dry and peppery with hints of citrus peels, caramel and maybe some salt as well. Again light hints of peat smoke.
Overall
A honest and super well-made young malt. Kudos to Benromach for putting an age statement on their youngest bottling instead of following the NAS trend.
Score: good but not exceptional (84 / 100)