Glenburgie 1997 (Langside Distillers 'Distiller's Art')
Dramcalendar Day 4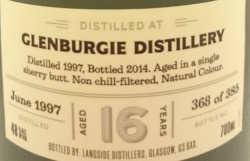 On the fourth day of the Dramcalendar, we have the Glenburgie 1997, bottled by Langside Distillers (Hunter Laing) as part of their 'Distiller's Art' series.
Today's distillery is another of the lesser known distilleries in the Speyside. Glenburgie is, together with Glentauchers, Miltonduff and Scapa, one of the four signature malts of Ballentine's. However there is at least one semi-regular released official bottling called 'Cask Strength Edition' (the last release is from 2014).
Facts
| | |
| --- | --- |
| Name: | Glenburgie 1997 |
| Bottler: | Langside Distillers (Hunter Laing) |
| Bottling series: | Distiller's Art |
| Vintage: | 06. 1997 |
| Bottled: | 2014 |
| Age: | 16 Years Old |
| Category: | Single Malt Scotch Whisky |
| Distillery: | Glenbrugie |
| Cask Type: | Sherry Butt |
| Strength: | 48.0% Vol. |
| Colored: | No |
| Chill Filtered: | No |
Nose
A big chunk of white honey. Vanilla ice cream with caramel sauce and more than just one cherry on the top. Hints of plums. Overall a very pleasant nose if there wasn't that rather unpleasant turpentine note in the background.
Taste
Lots of berries like currant, blackberries and blue berries, followed by bitter liqueur. Gets more spicier towards the end. Pipe tobacco.
Finish
Medium to long. Woody with a light fruity note. Menthol. Ends with a rather unpleasant solvent taste.
Overall
I am not a big fan of describing a whisky as 'interesting', but here it just fits. Not bad, but the 'chemical' touch both in the nose and in the finish was just a bit too much. I also didn't notice any real influence of the sherry butt. Overall a rather awkward bottling of you ask me.
Score: 77 / 100