Ben Nevis 1991 (SV 'The Un-Chillfiltered Collection')
Dramcalendar Day 5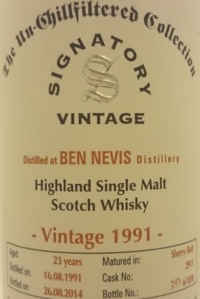 On the fifth day of the Dramcalendar, we have the Ben Nevis 1991, bottled by Signatory Vintage as part of their 'The Chillfiltered Collection'.
Although this is my very first review of a Ben Nevis, I tried quite a few (around a dozen or so) of them this year. But that was always on fairs or in my pub of choice so I wasn't able to write down notes. And I don't really know what it is, but this distillery made a lasting impression on me.
It is therefore surprising how little attention Ben Nevis gets among 'the average' single malt aficionado. To be fair, Ben Nevis doesn't release a lot of bottlings and the ones they release (apart from their 10 years old standard expression), are often very price intense. But that has to do with their low production (1.5M liters per year) and the fact that a third of the newmake is sent directly to Japan for the owner's (Nikka) blends. Which means that there is not much old stock laying around in the warehouse.
Lucky for us that there are quite a few (often very affordable) independent bottlings available.
Facts
| | |
| --- | --- |
| Name: | Ben Nevis 1991 |
| Bottler: | Signatory Vintage |
| Bottling series: | The Un-Chillfiltered Collection |
| Distilled: | 16.08.1991 |
| Bottled: | 26.08.2014 |
| Age: | 23 Years Old |
| Category: | Single Malt Scotch Whisky |
| Distillery: | Ben Nevis |
| Cask Type: | Sherry Butt |
| Cask No.: | 2911 |
| Strength: | 46.0% Vol. |
| No. of bottles: | 838 |
| Colored: | No |
| Chill Filtered: | No |
Nose
The sherry oak influence is noticeable right off the bat. Honey pastries with powdered sugar, almonds, hazelnuts – maybe even some nut cake? Dried fruits, but hard to tell which ones. Followed by cinnamon, nutmeg and clove.
Taste
Oily and unexpected strong. Again a lot of sherry, the oak is more pronounced now. Hints of floral honey and salt. Ends with brown sugar.
Finish 
Long and strong with a light fruitiness. Ginger and a bit of oak.
Overall
Robust and complex, even a bit maverick if you will – a text book example of  a great Ben Nevis.
Score: 92 / 100