Benromach Hermitage 2005
Review #227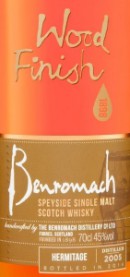 After the Benromach Organic 2008, let's delve into their Wood Finish Series! Alright, the first one is the Benromach Hermitage 2005, which is matured in First Fill Bourbon casks and than finished for 27 months in hand-selected Hermitage wine casks. Hermitage is a wine appellation in the northern Rhone valley in France and is famous for its red wine made from the Syrah grape.
Facts
| | |
| --- | --- |
| Name: | Benromach Hermitage |
| Vintage: | 2005 |
| Bottled: | 2014 |
| Category: | Single Malt Scotch Whisky |
| Distillery: | Benromach |
| Cask Type: | 1st Fill Bourbon + Hermitage Wine Casks Finish |
| Number of bottles: | 4,200 |
| Strength: | 45.0% Vol. |
| Colored: | No |
| Chill Filtered: | No |
Nose
Very complex. Red apples and red berries alongside hints of zesty lemons and gooseberries. Notable smoke with a medicinal touch. A little bit of vanilla and cinnamon in the back.
Taste
Intense with a good balance of sweet fruits and strong spices. Oranges, wild berries, milk chocolate and blossom honey, as well as wood and cinnamon. Notable peat smoke, again with a light medicinal touch.
Finish
Long. Ash and old smoke. Mint and oranges. Hints of oak.
Overall
Very complex with a good balance of peat smoke, fruit and spice. One of the better examples of a good made red wine finish.
Score: good but not exceptional (85 / 100)