Benromach 35 Years Old
Review #231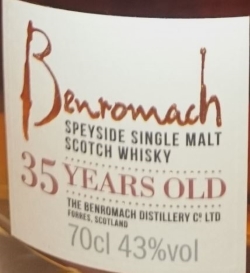 I reviewed a lot of Benromach (nine to be precise) last week, but obviously there's one more to review, namely their brand new 35 Years Old bottling. Lucky enough, I had the chance to sample this expression in a Tweet Tasting last Thursday, together with their 10 Years Old and 15 Years Old. So, before we start, let me once again thank the fine folks of Gordon & MacPhail's Marketing Team for the sample as well as Steve from The Whisky Wire for hosting the event. It was a great evening and I had an absolute blast. 
But now back to the Benromach 35 Years Old. It has no vintage year on the label, but since this bottling just came out, the casks were laid down either in 1980 or 1981, which was only a few years before Benromach closed (1983) and way before Gordon & MacPhail acquired the distillery and brought it back to life (1993-1998).
Facts
Nose
Super complex and very lovely, although I expected more sherry. No complaints though. Starts with pleasant beehive notes (wax, warm honey) and progresses with cooked kiwis, apple juice and orange zest marmalade. A little cinnamon for good measure. Then something leathery, a old leather couch perhaps.
Taste
Bitter sweet harmony with a fruity touch. Cigar tobacco, cooked bananas and baked red apples with nutmeg and cinnamon, complemented by hints of lemon zest and cacao powder. Delicate touches of cracked pepper corns and toasted oak are lingering in the background.
Finish
Long. Cacao powder, sweet tobacco and bitter orange oil, followed by oak and a bit of mint.
Overall
Funny enough, this expression feels more "modern" than some of the way younger Benromachs I reviewed last week. However, its freshness is what surprised me the most considering the three and a half decades in first-fill sherry casks. That said, this is a dangerously good and delightfully malt, although I'm not a big fan of bottling a whisky this old at anything but cask strength.
Score: very good and highly recommended (90 / 100)
Sample provided by Gordon & MacPhail