Benromach Peat Smoke 2006
Review #230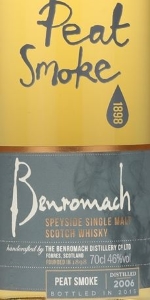 As you might you, I took part in a Tweet Tasting of Benromach's brand new 35 Year Old bottling yesterday. It was a great event, and I had an absolute blast, but more on that in another post. Because today, I want to talk about the Benromach Peat Smoke 2006.
In order to create their 'Peat Smoke' expression, Benromach uses heavily peated barley instead of the medium peated barley (12ppm) they usual use to give their whisky that special pre-1960's Speyside character. According to whiskybase, the barley for this release had a peat level of 62ppm, which puts the Benromach Peat Smoke 2006 in the same league as some of the Islay Single Malts as far as the peatiness goes — at least on paper.
Facts
Nose
Peaty but not that smoky if that makes sense. Besides that, pretty much everything you would expect from a 1st Fill Bourbon Barrel: sweet vanilla, white honey, bananas, lemon cream cake and peaches. Nice, but everything is a bit too light.
Taste
Bonfire and somewhat stronger peat. Bitter oranges, mealy apples, grapefruit and nectarines.
Finish
Rather long and sweetish with peat, ash and citrus peels.
Overall
Not bad, but nothing to write home about either. It's light and fresh, but lacks any real depth.
Score: good but not exceptional (82 / 100)