Arran 17 Years Old Limited Edition
Tasty Tastings Episode 23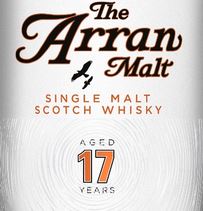 And here comes the Arran 17 Years Old, the second part of a trilogy counting down to the launch of the first official Arran 18 Years Old. Yet again, it was at the time of its release (2014) the oldest distillery bottling. But, in contrast to the Arran 16 Years Old, Arran used only Ex-Sherry Hogshead for maturation and no Ex-Bourbon Casks. Now, in my opinion this whole trilogy would be even more exciting if they had sticked to the same cask type(s) for all three parts but I do not want to moan (at least not too much).
Facts
| | |
| --- | --- |
| Name: | Arran 17 Years Old Limited Edition |
| Bottled: | 2014 |
| Age: | 17 Years Old |
| Category: | Single Malt Scotch Whisky |
| Distillery: | Arran |
| Cask Type: | Ex-Sherry Hogshead |
| Number of bottles: | 9,000 |
| Strength: | 46.0% Vol. |
| Colored: | No |
| Chill Filtered: | No |
Nose
Surprisingly dry in the nose for an Arran Malt. There is still a certain fruitiness but it is rather toned down and pretty sour –  pretty dominant apple cider vinegar, pears, even more apples (this time red ones), some berries and a few drops of lime juice. Candied orange slices and very ripe pineapples. More in the background hay and beeswax. And with some time there is again this sawdust dustiness.
Taste
Starts rather spicy with gingerbread and cigar leaves, but also a few citrus fruits. Moves on to hot chocolate, heather honey and cinnamon before licorice kicks in.
Finish
Long. Rather dry and spicy with ginger, lemon zest and licorice.
Overall
A nice step up from the 16 Years Old. Maybe a little bit too much emphasis on the spicy side of things but I like the added complexity.
Score: 88 / 100
Sample provided by Thorsten Jung (Spiritscorner.eu)