Glen Scotia Victoriana
Tasty Tastings Episode 62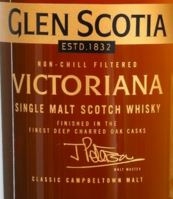 I reviewed the old disco-cows-on-happy-pills range from Glen Scotia on Tuesday. And today I am going to review the one!
Some general thoughts about the new range: Although it is a good thing to have a more diverse (albeit smaller) range now, I am not feeling too happy about the fact that two out of three bottlings are now without an age statement. Add in the fact that all expressions are now colored and I am not that sure if this new range is a real improvement, at least on paper.
With regards to the Glen Scotia Victoriana: I like the addition of a cask strength version. But I am not sold on the idea of finishing the whisky 'in deep charred oak' (i.e. heavily burned out bourbon casks) after maturing it already in some sort of other bourbon casks. That sounds a bit like an overkill to me.
Facts
| | |
| --- | --- |
| Name: | Glen Scotia Victoriana |
| Age: | NAS |
| Category: | Single Malt Scotch Whisky |
| Distillery: | Glen Scotia |
| Cask Type: | Finished in deep charred oak casks |
| Strength: | 51.5% Vol. |
| Colored: | Yes |
| Chill Filtered: | No |
Nose
Not bad, but needs time to open up. Vanilla, burned caramel and baked bananas with cinnamon. Polished wood and (not surprisingly) roasting flavors.
Taste
Very bitter. Tastes more like dark coffee than anything else. Charred oak as expected. Very dark chocolate with nuts. Gets spicier towards the end.
Finish
Very long. Dry, almost earthy. Very bitter again. Dark chocolate. More charred oak.
Overall
I could be nice and say that this expression is 'straightforward' but instead I am honest. To me, this expression is pretty bland and has not much to offer besides a heavy (charred) oak overload.
Score: 75 / 100