Heaven Hill 2001 Sherry Hogshead (MoS)
American Monday Episode 22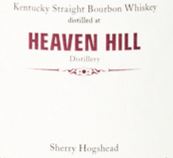 Last week's Heaven Hill 2005 wasn't a huge revelation to me, so let's see what the Heaven Hill 2001 Sherry Hogshead has to offer.
Facts
Nose
A lot of sherry aromas at the beginning. Dark cherries and cinnamon. Gets more bourbon-y with the time. Fresh oak, wood polish, vanilla and caramel. Cacao powder. Rum nut chocolate.
Taste
Sweet but also pretty thin on the palate. Gets even sweeter now. Caramel, hints of vanilla, popcorn and wild berries with rock sugar. Followed by cinnamon and licorice.
Finish
Medium and drying. Hints of oak. Menthol followed by burned popcorn.
Overall
Although the sherry hogshead gives this bourbon the 'little something extra', its not a marriage in heaven between the two in my opinion. Frankly, the sherry feels more put on than well integrated.
Score: 85 / 100