Glenfarclas £511.19s.0d Family Reserve
GTasty Tastings Episode 83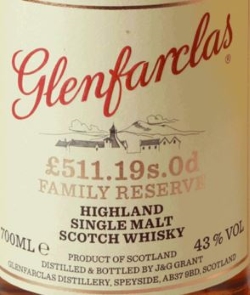 The Glenfarclas £511.19s.0d Family Reserve is a special release to mark 150 years since the Glenfarclas distillery came into the ownership of the Grant family — for the price of (you guessed it) 511 Pounds and 19 shillings. Not a bad deal because according to the Bank of England's inflation calculator, that would be around £58,000 ($83,500 or €74,400) today.
It's just a bit unfortunate that one of the last family-owned Scottish distilleries, run in the 5th and 6th generation, now also jumped on the "fairly high-priced special release NAS" bandwagon.
Facts
| | |
| --- | --- |
| Name: | Glenfarclas £511.19s.0d Family Reserve |
| Bottled: | 2015 |
| Bottled for: | 150th Anniversary of Grant Family's Ownership |
| Age: | NAS |
| Category: | Single Malt Scotch Whisky |
| Distillery: | Glenfarclas |
| Cask Type: | 1st Fill Sherry Butts |
| No. of bottles: | 12,000 |
| Strength: | 45.3% vol. |
| Colored: | No |
| Chill Filtered: | No |
Nose
Is this really a Glenfarclas? Let me double check the label… yep, this is indeed a Glenfarclas. Plum jam on freshly toasted white bread and cookie dough. Then lots fruits like Granny Smith apples, oranges and lemon peels. Strawberry toffees and mirabelle liqueur, joined by hints of vanilla.
Taste
Surprisingly dry and by far not as fruity as the nose promised. Orange peels, nougat with cinnamon, hints of floral honey and a big chunk of walnut pie. Also a bit peppery now. Gets pretty bitter and oaky towards the end.
Finish
Medium and slightly bitter. Nuts, apples and hints of bitter chocolate.
Overall
Not bad, just a very unusual Glenfarclas and completely different from what I expected. I'm not the biggest fan of this style, but maybe this is how Glenfarclas was like back in 1865?
Score: 83 / 100