Knob Creek 9 Years Old
American Monday Episode 28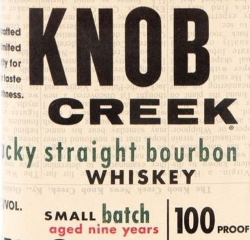 Jim Beam is all about quantity over quality?  Well, you've probably never had one of their small batch bourbons then!
Booker Noe, grandson of the legend himself, Jim Beam, created The Small Batch Collection, a "group of ultra-premium bourbon whiskies handcrafted in limited quantities from unique recipes, some dating back two centuries": Basil Hayden's, Knob Creek, Baker's and Booker's.
After last weeks's review of the Basil Hayden's 8 Years Old (arguably the weakest of the four), let's get to the good stuff!
Booker Noe, Jim Beam's master distiller for over 40 years, created the Knob Creek as a homage to pre-Prohibition bourbon. He named it after the same-named small stream that flows a bit south of the distillery. Abraham Lincoln grew up on a farm close to Knob Creek and, as legend has it, he almost drowned in the creek as a child. For Booker Noe, his Knob Creek bourbon was like the sixteenth President of the United States: genuine in character and unwavering in stance.
Contrary to some rumors, the Knob Creek is still nine years old. Jim Beam just removed the age statement on the label for some international markets because (and this made me laugh really hard):
European consumers think of Scotch when seeing aged stated whiskey. (read more here)
Ah yes, those silly Europeans!
Facts
Nose
Fresh oak, intense and vigorous, combined with spicy cereals. Sweet undertones of warm caramel. The alcohol is hardly noticeable at all.
Taste
A very oily, almost creamy mouth feel with thick caramel. Becomes spicier with tender pepper and toasted oak. Dark chocolate follows. Ends with notes of cherries.
Finish
Medium. Strong and warming with a lot of oak.
Overall
Intense, vigorous and uncompromising: The Knob Creek rolls over you like a steamroller, but in a very pleasant way. This bourbon lives up to its name.
Score: 85 / 100