Ben Nevis 1972 (The Maltman)
Tasty Tastings Episode 85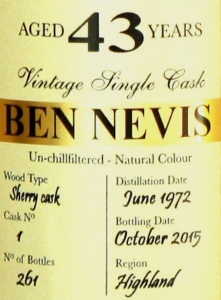 Alright, it took longer than expected, but here it is! My 200th review on dramlicious.com! And what would be better than to celebrate this special occasion with a special whisky? How about this one: Ben Nevis, 43 years old, bottled by The Maltman. Sounds good to me.
1972 — Just think about it: The Watergate scandal. The Godfather is released in cinemas (one of my all-time favorite movies!). West Germany beats the Soviet Union to win the Euro. I mean, this whisky was distilled 15 years before I was born! Tasting such an old whisky is like traveling back in time, or at least it is for me.
Facts
| | |
| --- | --- |
| Name: | Ben Nevis 1972 |
| Bottler: | Meadowside Blending |
| Bottling series: | The Maltman |
| Distilled: | 06. 1972 |
| Bottled: | 10. 2015 |
| Age: | 43 Years Old |
| Category: | Single Malt Scotch Whisky |
| Distillery: | Ben Nevis |
| Cask Type: | Sherry Cask |
| Cask No.: | 1 |
| Strength: | 42.5% Vol. |
| No. of bottles: | 261 |
| Colored: | No |
| Chill Filtered: | No |
Nose
Sweet and syrupy. Something between rum molasses and rum pot. Fruity notes of dark berries, cocktail cherries and overripe kiwis. A few milled nuts.
Taste
Syrupy and fruity. Cherry syrup. Bitter citrus fruits and dark chocolate. Dried herb mix, alongside milk chocolate and dried tobacco leaves. Hints of herb liqueur and tea. Maybe some oak, but not a lot.
Finish
Long with a bitter dryness. Dark chocolate, sweet tobacco and cherries with cinnamon.
Overall
By far not as complex and deep as expected, but very palatable and definitely not overaged. That being said, I had already younger Ben Nevis more to my liking. Older doesn't always mean better, I guess.
Score: very good and highly recommended (87 / 100)