Baker's 7 Years Old
American Monday Episode 29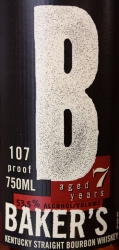 Jim Beam is all about quantity over quality?  Well, you've probably never had one of their small batch bourbons then!
Booker Noe, grandson of the legend himself, Jim Beam, created The Small Batch Collection, a "group of ultra-premium bourbon whiskies handcrafted in limited quantities from unique recipes, some dating back two centuries": Basil Hayden's, Knob Creek, Baker's and Booker's.
Named after Baker Beam, a grandnephew of Jim Beam, the Baker's 7 Years Old utilizes a special strain of jug yeast. This yeast, supposedly discovered 60 years ago by Jim Beam, is said to provide Baker's Bourbon "with a silky smooth texture and consistent taste from batch to batch."
Baker's is only aged in the upper floors of the rackhouses for a "robust bourbon flavor" and a "silky, smooth finish".
Facts
Nose
Spicy vanilla, joined by hints of caramel. Altogether, not that sweet for a bourbon. Strong notes of sour cherries in the back. The alcohol isn't noticeable at all.
Taste
Surprisingly silky and smooth, despite the high proof. The sour cherries are back and even stronger. Reminds me a bit of kirschwasser. A nice mix between oak and sweetness, although the oak takes over with time. Ends with bitter chocolate.
Finish
Long. Quite dry, but at the same time also malty-sweet. More sour cherries.
Overall
If bourbons are usually not your thing — this one is definitely different. The Baker's is less "sweet" than other bourbons, but incredible mature and complex for its age. Anything but an ordinary bourbon!
Score: 88 / 100