Mackmyra Vinterrök
Worldwide Wednesday Episode 38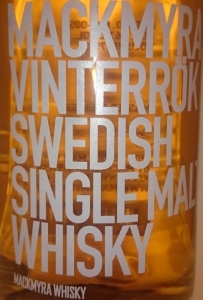 Seasons is Mackmyra's series of seasonal whiskys. Each bottling has an unusual finish with "a clear connection to the season's expression". So far, five editions have been released.
Mackmyra Vinterrök (Winter Smoke) is the fifth and latest release in the series and was matured in Swedish Oak casks (previously filled with bourbon and sherry) and then partly finished in casks that previously held a Scotch Strong Ale.
Facts
| | |
| --- | --- |
| Name: | Mackmyra Vinterrök |
| Bottling Series: | Säsongswhisky |
| Bottled: | 2015 |
| Age: | NAS |
| Category: | Single Malt |
| Distillery: | Mackmyra |
| Cask Type: | Swedish Oak, Scotch Strong Ale Finish |
| Strength: | 46.1 % Vol. |
| Colored: | No |
| Chill Filtered: | No |
Nose
A sweet malt beer with a maritime touch. Yellow stone fruits and smoked herbs. Vanilla together with some honey, balanced by a bit of salt. Peat smoke and also some iodine perhaps.
Taste
Oily and smoky with a light saltiness. Vanilla fudge and canned pears. Sugared lemons followed by limonchello. Hints of anise and white pepper corns. Ends with bitter oak.
Finish
Medium with light smoke and some oak. Lemon candies and nuts. Again a bit of salt.
Overall
Rock solid, reminds me of some Highland Single Malt with its light smokiness and salty touch.
Score: good but not exceptional (86 / 100)