McCarthy's Oregon Single Malt Whiskey
American Monday Episode 14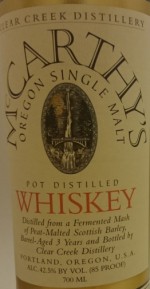 Most people think of bourbon and rye (and maybe corn whiskey) when it comes to US Whiskey. However, a growing amount of US distilleries are also producing single malt whiskies nowadays. A pioneer of this movement is Steve McCarthy, owner of the Clear Creek Distillery in Portland, Oregon. And sure enough, his McCarthy's Oregon Single Malt Whiskey is something really unique: the malted barely for this whiskey comes from no other place than the Port Ellen Maltings on Islay. The wash is made by Widmer Brothers, a Portland microbrewery, and is then distilled by McCarthy in his Bavarian eau-de-vie pot stills (Clear Creek Distillery's main products are fruity brandies). The distilled spirit is then reduced in proof and afterwards matured for 3 years in barrels made from air-dried Oregon Oak.
McCarthy's Oregon Single Malt is produced in very limited quantities only and thus very hard to come by (unless you live in Portland I guess).
Facts
| | |
| --- | --- |
| Name:  | McCarthy's Oregon Single Malt Whiskey |
| Bottled: | 16.09.2013 |
| Age: |  3 Years Old |
| Category: | Single Malt |
| Distillery: | Clear Creek Distillery |
| Cask Type: |  air-dried Oregon Oak |
|  Batch No.: |  W13-02 |
|  Strength: |  42.5% vol. |
| Colored: | No |
| Chill Filtered: | No |
Nose
Meat and campfire, but gentler than expected. Smoked ham wrapped around a sweet core of vanilla, marshmallows and salted caramel. Accompanied by hints of roses perfume.
Taste
Smooth and warming, also a bit oily. Again smoked ham. Caramel apples, salted popcorn with butter, butterscotch and sweet malt. Oak. Hints of smoked vanilla beams. No signs of youth though.
Finish 
Unexpected long but the youth shines through now. Smoked meat and oak. Hints of campfire ash. Drying towards the end.
Overall
In a blind tasting, I would have guessed this to be a 8 to 10 year old Islay Single Malt for sure. Very interesting.
Score: 88 / 100