Highland Park 1995 (Gordon & MacPhail 'Exclusive')
Tasty Tastings Episode 47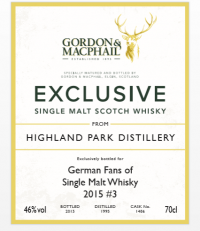 Today's Highland Park 1995 is a single cask bottled by Gordon & MacPhail for German whisky importer Kirsch Import. The official release was just a few days ago but if you are interested in a bottle better be quick because only 342 bottles were released
Facts
| | |
| --- | --- |
| Name: | Highland Park 1995 |
| Bottler: | Gordon & MacPhail |
| Bottling Series: | Exclusive |
| Bottled For: | German Fans of Single Malt Whisky |
| Distilled: | 13.07.1995 |
| Bottled: | May 2015 |
| Age: | 19 Years Old |
| Category: | Single Malt Scotch Whisky |
| Distillery: | Highland Park |
| Cask Type: | Refill Bourbon Hogshead |
| Cask No.: | 1486 |
| No. of Bottles: | 342 |
| Strength: | 46.0% vol. |
| Colored: | No |
| Chill Filtered: | No |
Nose
Fresh, fruity and almost sour. Not what I did expect but compelling nonetheless. Green apples, pear juice, mangoes, sweet oranges and candied lime zest with a cooling note of peppermint and menthol. A bit woody around the edges with spruce wood and pine cone. Hints of vanilla infused honey and caramel in the back.
Taste
Sweet and creamy. Bananas covered in bitter chocolate and honeydew bites. Balanced by white pepper and salted butter.
Finish
Long and creamy. At first dry oak until the trademark Highland Park heather-smoke kicks in.
Overall
Well balanced but not boring at all. The fruitiness caught me by surprise, but in a good way.
Score: 88 / 100
Sample and picture provided by Kirsch Import