GlenDronach 1990 (Cadenhead's 'Small Batch')
Dramcalendar Day 1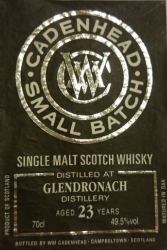 December is here which means it's time to start the Christmas countdown. And what better way to count down than with a calendar full of whisky? That's right, for the next 24 days I will review each day an independent bottled single malt. Therefore all other series (American Monday, Tasty Tastings, Worldwide Wednesday and Peaty Friday) go on break until next year.
On the first day of the Dramcalendar, we have the GlenDronach 1990, bottled by Cadenhead as part of their 'Small Batch' bottling series. This 23 years old expression is pretty special for two reasons. One is that it was distilled at a time (1990) when Glendronach still used direct coal fired stills, which were removed in 2006. And second is that it was fully matured in bourbon hogsheads. Especially the latter makes this expression so interesting to try out since Glendronach is first and foremost known for their big sherried whiskies and their very wide range of mostly in wine casks finished bottlings although some of the newer releases are nearly impossible to get nowadays.
May it as it be, time to find out what a 'naked' Glendronach has to offer.
Facts
| | |
| --- | --- |
| Name: | GlenDronach 1990 |
| Bottler: | Cadenhead's |
| Bottling series: | Small Batch |
| Vintage: | 1990 |
| Bottled: | 2013 |
| Age: | 23 Years Old |
| Category: | Single Malt Scotch Whisky |
| Distillery: | GlenDronach |
| Cask Type: | Bourbon Hogshead |
| Number of bottles: | 534 |
| Strength: | 49.5% Vol. |
| Colored: | No |
| Chill Filtered: | No |
Nose
Hay bails in the middle of green apple and orange tries. Chocolate brownies fresh from the oven, decorated with raspberries, vanilla pods and lemon zest.
Taste
Unexpected strong. Fruit cake with ginger, honeyed hazelnuts and latte with caramel syrup. More hay bails.
Finish
Long. Spicy and drying. Coffee beans and creme brulee.
Overall
A very exciting Glendronach because it's so different from other expressions. Highly recommended to everyone who wants to try out a more 'naked' than usual expression from this fine distillery. It doesn't have to be always big sherried whiskies and wine cask finishes!
Score: 88 / 100