Stagg Jr. 67.2% (2013)
American Monday Episode 25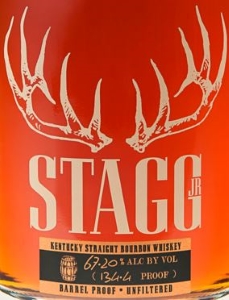 The first episode of American Monday in 2016 with yet another bottling from Buffalo Trace! As the name already suggests, the Stagg Jr. is indented to be the younger version of the George T. Stagg, an uncut, unfiltered bourbon that has won numerous awards since its introduction in 2002.
Stagg Jr. is a limited barrel proof expression, which was matured "for nearly a decade" (so 8 to 9 years, I guess?) and is released twice a year (spring and fall). Compared to its elder counterpart, matured for "more than 15 years" and released once a year as part of the Antique Collection, the price is much more affordable — around $50 in the states or around 90€ to 100€ on my side of the pond. But the really good thing is that Stagg Jr. doesn't affect the stock of barrels set aside for George T. Stagg releases.
Much to my regret, I didn't have the chance to sample the legendary George T. Stagg yet, but maybe this is a blessing in disguise for today's review, because when Stagg Jr. was first released in August 2013 (which is the batch I am reviewing today) the opinions were pretty mixed — to put it nicely. However, the general consensus is that the quality got much better after the 3rd batch. So I guess that I should review one of those newer batches at one point or another as well.
Facts
Nose
Intense and very rich, but needs it's time to open up. Malt, sweet corn, a little rye and… plastic bags. Kinda weird, but why not. With time, fresh apple wood arrive along with a soft touch of cherries, complemented by vanilla, caramel, pencil shavings and pancakes with maple syrup. The alcohol is definitely noticeable but bearable.
Taste
A short appearance of honey, mint and coconut right before the alcohol burn kicks in. And when I say burn I really mean it. This is definitely not for the ones who are not used to drink (super) high cask strength expressions neat. Then burned caramel, nougat, a whiff of sweet citrus fruits and surprisingly lots of really, really dry oak.
Finish
Very long and dry. Burned oak followed by hints of vanilla, mint and something that I had never before in any whisky… dentist's disinfectant.
Overall
Pleasant enough, but not wow. The nose is pretty fascinating but the palate is just way too raw and oak infused once you get beyond the heavy alcohol.
Score: 83 / 100