The Quiet Man Traditional Irish Whiskey
Tasty Tastings Episode 67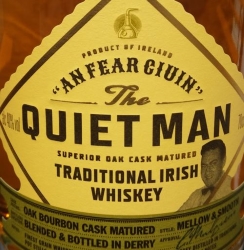 It's been awhile since my last review of an Irish Whiskey, so it's time to change that. The Quiet Man Traditional Irish Whiskey is a blended pot still whiskey, bottled by Niche Drinks, a Derry-based manufacturer for Irish cream liqueur.
In case you were wondering, the name does not come from the famous 1952 movie 'The Quiet Man' with John Wayne and Maureen O'Hara in the starring roles, but is a reference to the father of Ciaran Mulgrew, the man behind Niche Drinks. Mulgrew's father worked as a bartender for 50 years and was well known for not telling any tales. He was 'The Quiet Man', or 'An Fear Ciuin', as the Irish say.
As of this writing, Mulgrew is building his own distillery and when completed, The Quiet Man Craft Irish Whiskey Distillery will be the first new build distillery in Derry for over 150 years.
Facts
| | |
| --- | --- |
| Name: | The Quiet Man Traditional Irish Whiskey |
| Bottler: | Niche Drinks |
| Age: | NAS |
| Category: | Blended Pot Still Irish Whiskey |
| Cask Type: | 1st Fill Bourbon Barrels |
| Strength: | 40.0% Vol |
| Colored: | Yes |
| Chill Filtered: | Yes |
Nose
Clear apple juice, menthol cough drops and fresh chopped almonds. Then fresh roasted bread arrives, together with hints of vanilla and cinnamon. Definitely enjoyable, but a bit too youthful around the edges.
Taste
Smooth and creamy. Bitter almonds and citrus fruits, along with a whiff of green apples. Roasted flavors emerge, as well as some oak. The youthfulness is even more noticeable now.
Finish
Medium. Drying with a fruity touch, followed by vanilla and menthol. Gets bitter towards the end.
Overall
Not bad, by any means. In fact, pretty enjoyable but a bit too youthful for me.
Score: 78 / 100
Sample provided by Irish Whiskeys