Heaven Hill 2005 (MoS)
American Monday Episode 21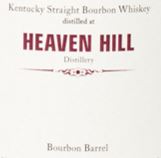 After being in business for six years now, the German independent bottler Malts of Scotland made the step over the big pond and released four bourbons. Three out of those four are from Heaven Hill, owner of such well known bourbon brands as Evan Williams, Elijah Craig, Old Fitzgerald and Rittenhouse.
Whereas today's bottling is your typical bourbon, the other two releases are quite special: one was fully matured in a sherry hogshead while the other one got a finish in a port cask. I will review those two in the upcoming episodes of American Monday (23rd respectively 30th November). So stay tuned!
Facts
Nose
Light and fresh. Corn syrup, wood polish and dusty cupboard. Although this bourbon is made out of a low-rye mashbill (like all bourbons from Heaven Hill), the nose isn't particular sweet. There is only a slight hint of vanilla somewhere in the background. Lemon drops and cherry blossoms. The alcohol isn't noticeable at all.
Taste
Gets stronger and spicier after a few seconds, but the alcohol strength stays manageable at all times. The vanilla is a bit more pronounced now. Very ripe pears tossed in thick caramel sauce. Charred oak.
Finish
Medium. Wood polish. A bit spicy, gets dryer and creamy then.
Overall
Solid – in the best sense of the word. Although without the 'oomph' I am expecting from a single barrel bourbon with that age. Maybe that has something to do with the (relatively speaking) low strength?
Score:  84 / 100