Glen Scotia 10 Years Old
Tasty Tastings Episode 55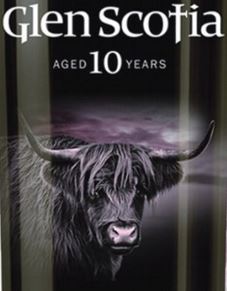 About three years ago, Glen Scotia launched a complete new range, which I liked to call the disco-cows-on-happy-pills. Of course the content is more important than the packaging, but seriously, how can you come with that particular packaging for a whisky? Anyways, a couple of months ago Glen Scotia did yet another complete overhaul of their range: no more 10, 12, 16, 18 and 21 Years old but instead a new 15 Years Old and two NAS bottlings ('Double Cask' and 'Vicotrina').
So, time to compare! I will review the old range today and on Thursday the new one.
Facts
Nose
Pretty youthful in the nose – this single malt doesn't hide its (young) age. Very sweet. Limes, oranges and unripe pineapples. Apple crumble with vanilla and caramel. Almost a bit peaty with a slightly maritime touch, which I like.
Taste
Buttery, dry and again very sweet. Vanilla, caramel, green apples, pears and kiwis. Also some nuts. Some hints of peat in the back.
Finish
Medium. Drying and a bit salty.
Overall
Very sweet and easy to sip, but a few more years of maturation wouldn't have hurt. I like the combination of ex-bourbon and slightly maritime notes though.
Score: 81 / 100