Blair Athol 1988 (van Wees 'The Ultimate')
Dramcalendar Day 12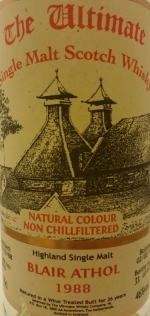 On the twelfth day of the Dramcalendar, we have the Blair Athol 1988, bottled by van Wees as part of their 'The Ultimate' bottling series.
I am not sure what to expect from today's dram because it is my first "wine treated" expression. In the past it was common within in the Scottish whisky industry to season casks with (sherry) wine concentrate  in order to add extra color and a fuller, richer (sherry) character to the whisky. Simply put, the casks were impregnated by pouring the concentrate under high pressure into them. After 10 minutes, all the not absorbed concentrate was disgorged – at least in theory. Nowadays, any additive, unless absorbed by the wood (obviously with the exception of water and E 150a), is considered illegal by the Scottish Whisky Association (SWA).
Facts
| | |
| --- | --- |
| Name: | Blair Athol 1988 |
| Bottler: | van Wees |
| Bottling series: | The Ultimate |
| Vintage: | 14.10.1988 |
| Bottled: | 02.02.2015 |
| Age: | 26 Years Old |
| Category: | Single Malt Scotch Whisky |
| Distillery: | Blair Athol |
| Cask Type: | Wine Treated Butt |
| Cask Number: | 6853 |
| Number of bottles: | 417 |
| Strength: | 46.0% Vol. |
| Colored: | No |
| Chill Filtered: | No |
Nose
Strong and sweet. Stewed apples with a whiff of cinnamon and a few raisins. Red grapes, oranges and green pears. Reminds me of a medium dry sherry overall.
Taste
A slightly dry red wine? Lots of berries like blackberries and currants covered in dark chocolate. Notes of almonds and marzipan before grapefruit sets in, alongside a subtle oaky bitterness and some pepper. And a whole bunch of sulfuric.
Finish
Medium to long with a dry sweetness. Raisins, currants, some other berries and latte macchiato with hazelnut syrup.
Overall
Not an easy dram by any stretch of the imagination but definitely worth the experience.
Score:  85 / 100