Clynelish 1990 (Ian MacLeod 'Dun Bheagan')
Dramcalendar Day 13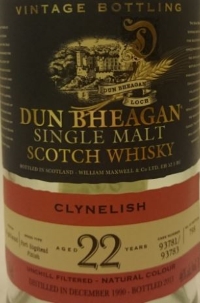 On the thirteenth day of the Dramcalendar, we have the Clynelish 1990, bottled by Ian MacLeod as part of their 'Dun Bheagan' bottling series. Dun Bheagan (or Dunvegan in Gaelic) is an ancient village on the Isle of Skye. Dunvegan Castle is the family seat of the MacLeod Clan since the 13th Century, making it the oldest continuously inhabited castle in Scotland.
I am rather excited about today's expression. Not only do I have a weakness for single malts from Clynelish, but I also have a soft spot for port cask finishes. So in theory, this Clynelish should be right down my alley.
Facts
| | |
| --- | --- |
| Name: | Clynelish 1990 |
| Bottler: | Ian MacLeod |
| Bottling Series: | Dun Bheagan |
| Vintage: | December 1990 |
| Bottled: | 2013 |
| Age: | 22 Years Old |
| Category: | Single Malt Scotch Whisky |
| Distillery: | Clynelish |
| Cask Type: | Port Wine Cask Finish |
| Cask Number: | 93781 / 93783 |
| Number of bottles: | 798 |
| Strength: | 46.0% Vol. |
| Colored: | No |
| Chill Filtered: | No |
Nose
Very fruity with all sorts of stone fruits like cherries, apricots and peaches. There are also some red berries in the mix. Lots of honey with hints of vanilla. Then sun baked wood, straw and hey – like a old barn in the sun.
Taste
Sweet, soft and even more wine-like now. Stone fruits and wild berries are back again. It gets dryer then. Oak, old leather and some peppercorns.
Finish
Long and spicy with a certain bitterness from the oak. Hints of caramel and dried strawberries.
Overall
A decent whisky finished in an overly active cask. Overall, it was a pretty big disappointment for me. Very one-dimensional and definitely not what I was expecting from a Clynelish that old.
Score: 81 / 100