Aultmore 2007 (A. D. Rattray)
Dramcalendar Day 14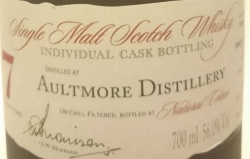 On the fourteenth day of the Dramcalendar, we have the Aultmore 2007, bottled by A. D. Rattray.
About half a year ago, I reviewed a 8 Years Old Aultmore bottled for Whic. Funny enough, today's Aultmore is the sister cask of that one. And sure enough, they look pretty similar on paper: both were distilled on the exact same date (12th March),  matured in a sherry butt, bottled at the same strength (give or take a little bit) and have around the same age (the one for whic is a half year older). So with all that in mind, the question is, are there any real differences between these two? Let's find out!
Facts
| | |
| --- | --- |
| Name: | Aultmore 2007 |
| Bottler: | A. D. Rattray |
| Distilled: | 12.03.2007 |
| Bottled: | 06.10.2014 |
| Age: | 7 Years Old |
| Category: | Single Malt Scotch Whisky |
| Distillery: | Aultmore |
| Cask Type: | Sherry Butt |
| Cask Number: | 900015 |
| Number of bottles: | 588 |
| Strength: | 56.0% Vol. |
| Colored: | No |
| Chill Filtered: | No |
Nose
There is a lot going on here. Chocolate covers cherries, baked bananas with almonds and orange zest marmalade. Then toffee, caramel and semolina pudding with strawberry sauce, alongside wholemeal cookies and hints of vanilla.
Taste
Sweet and fruity. Raspberries and wild strawberries accompanied by toffee, caramel and orange zest marmalade on burned toast. Gets a bit spicier and charred oak joins in, too. Ends with dry earth. 
Finish
Medium and a little bit dry. Bananas, oranges, bitter nougat, pepper and fresh oak.
Overall
Wow! Something different for sure and not the young sherry bomb I had expected, but a very, very complex single malt for its age and just a great dram overall.
Score: 90 / 100