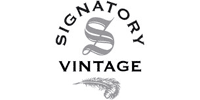 Signatory Vintage was founded by Andrew and Brain Symington in 1988. The original idea was to dedicate each bottling to a famous person and to let him or her sign the label and although that idea was never executed, the name was kept. In 1992, the company moved from its original location of Leith to the nearby Edinburgh. Andrew Symington fulfilled his long-awaited goal to own a distillery in 2002 when Pernod Ricard sold Edradour to him. Following this, Signatory Vintage moved to the site of the distillery in 2007.
Signatory Vintage is one of the few independent bottlers in Scotland with an own bottling plant. Furthermore, its one of four or five independent bottlers with a warehouse of over 10,000 casks, often from distilleries with no own bottlings (because their whisky is mainly intended for blending) or from mothballed or demolished distilleries. Signatory Vintage has several ranges but their best known are probably the 'Vintage Collection' (bottled at 43% ABV), the 'Un-Chillfiltered Collection' (bottled at 46% ABV with no color added) and the 'Cask Strength Collection' (single casks bottled at cask strength). In addition to that, they also distribute other brands like 'Dun Eideann' and 'The Prestenfield' in certain markets.
Tasting Notes
All other brand names and trademarks are the property of their respective owners and are used for descriptive purposes only.