'As We Get It' Islay Single Malt (60.3%)
Peaty Friday Episode 10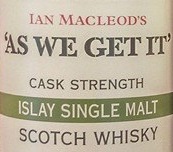 After yesterday's episode with the 'As We Get It' Highland Single Malt (67.9%), it seems only appropriate to review the other available 'As We Get It' expression from independent bottler Ian MacLeod today. There are no hints given which Islay distillery could be behind this bottling but there are not that many distilleries that come into question I guess.
Facts
Nose
Rather light and fragrant, the alcohol is not noticeable at all. A large plate with salty bacon. Citrus fruits. Cold coal smoke with a bit of medicine in the back.
Taste
Starts smooth but the alcohol steps in pretty quickly. A lot of citrus fruits like limes, oranges and grapefruits. Light smoke. Then saltiness kicks in.
Finish
Medium and strong with a bit of-vanilla infused smoke.
Overall
Very simple and undemanding. Feels a bit raw and "unfinished". Not unpleasant but quickly forgettable overall.
Score: 80 / 100