Elmer T. Lee Single Barrel
American Monday Episode 9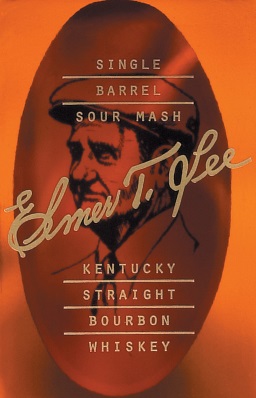 Time for yet another single barrel expression from Bufallo Trace, namely the Elmer T. Lee Single Barrel.
The man whose name it carries, the now passed away Elmer T. Lee, was a true icon and pioneer in the world of bourbon whiskey and his biography reads pretty much like a modern version of the American dream. Lee was born in 1919 on a tobacco farm in Kentucky. He graduated from high school in 1936 and worked afterwards in a shoe company. He joined the U. S. Army Air Force as a radar bombardier in 1941 and was honorably discharged in 1946. He turned back home, studied engineering at the University of Kentucky and graduated with honors in 1949.
Afterwards he was hired by Colonel Albert B. Blanton, who was back then president of the George T. Stagg Distillery (Buffalo Trace since 1999). Lee started as a maintenance engineer but worked his way up through the ranks until he became manager of the distillery in 1968. His biggest accomplishment was probably the introduction of the world's first single-barrel bourbon since the time when bourbon was sold to costumers by the barrel. The name of this single barrel bourbon: Blanton's, in honor of Colonel Blanton. Blanton's was first released in 1984. Only one year later Lee retired but he remained involved in the distillery as master distiller emeritus. He was in turn honored with a single barrel bourbon bearing his name in 1992, seven years after his official retirement. Lee helped to select the barrels for his namesake brand until he passed away in 2013 at the age of 93, only a few weeks before his 94th birthday.
The Elmer T. Lee Single Barrel is made from the same mash bill as the Blanton's but is said to be aged for a longer time, somewhere between 9 and 14 years according to different sources.
Buffalo Trace released in 2014 a limited commemorative edition at 46.5% ABV (93 proof) in memory of Elmer T. Lee.
Facts
Nose
A delicate mix of toffee, vanilla and maple syrup. But there is also a certain spiciness to it, which might comes from the rye. Followed by dried cherries and apricots. Hints of charred wood and leather in the back.
Taste
Peaches and apricots soaked in raisin liqueur. Again maple syrup. Carefully balanced by fresh oak and a few black peppercorns.
Finish
Long and drying. Oak, leather and hints of tobacco leaves.
Overall
Deep and rich, yet very accessible. Nothing is overpowering, everything is in the right place. A truly well-balanced bourbon of subtle elegance.
Score: 91 / 100