'As We Get It' Highland Single Malt (67.9%)
Tasty Tastings Episode 33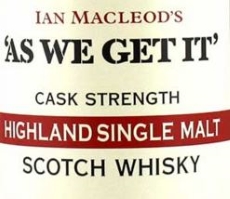 'As We Get It' is one of the brands from independent bottler Ian MacLeod, always uncolored and bottled at cask strength (hence the name), sometimes with, sometimes without an age statement of 8 years. There are two different expressions available, both from an undisclosed Highland respectively Islay distillery (or a variety of ?).
Facts
Nose
Hot chocolate laced with sherry. Served with almonds, cinnamon honey and vanilla biscuits. A certain fruitiness in the back, which reminds me of fig and plum jam. The alcohol is noticeable but not intrusive.
Taste
A soft start to the palate, much smoother than what I would have expected from the high strength. More plums and figs with a splash of lime juice. A bit of honey. However, the alcohol comes into the foreground now, accompanied with a lot of spicy oak and sherry. Cools off after a bit and milk chocolate comes to light.
Finish
Medium. Reasonable dry but with a lot of fruit. Hints of mint chocolate.
Overall
Not much variety but what is offered is enjoyable. Plays the sherry theme in a convincing way and is not burdened by the very high strength at all.
Score: 85 / 100