Ledaig 10 Years Old
Peaty Friday Episode 13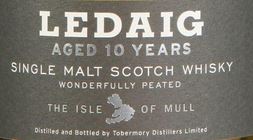 Tobermory is the only distillery on the Isle of Mull and produces two different kind of single malts, the unpeated Tobermory and the peated Ledaig with a phenol content between 30 and 40 ppm. So far I have reviewed only two Tobermorys, the 10 Years Old and the Tobermory 15 Years Old and to be honest with you, I am not the biggest fan of both. But who knows, maybe my perception of this distillery will change after I had some of their Ledaig 10 Years Old?
The peaty Ledaigs are meant to represent the distillery's original style and the distillery itself was named Ledaig for some of the time. Now, I am anything but fluent in Gaelic, but from what I know, the correct pronunciation of Ledaig is even on the Isle of Mull not without controversy. Whatever the case, the name translates to 'safe haven' in English.
Facts
Nose
Cold coal smoke, slightly burned rubber and a whiff of iodine. There is something sweet-sour in the background which reminds of lemons and sweet balsamic vinegar.
Taste
Oily with spicy toasted oak and cold ash. Followed by freshly ground black pepper and red chili peppers. Burns on the tongue. The spiciness fades away with some time and lemon drizzle cake comes to light.
Finish
Long. Again cold ash. Paired with white pepper and salt water.
Overall
This single malt is hasty, wild and not afraid to show that. A bit too rough for my taste but I find this in-your-face-attitude rather refreshing.
Score: 82 / 100