Clynelish 1996 'Single Cask Seasons – Spring 2015′ (SV)
Tasty Tastings Episode 39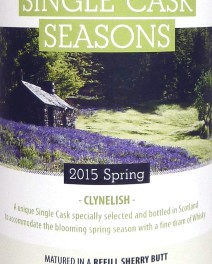 Single Cask Seasons is a bottling series from independent bottler Signatory Vintage for German whisky importer Kirsch Import. The goal of this series is to find a whisky that matches the season of the year. The first one (Winter 2014) was a 10-year-old Ledaig matured in a 1st Fill Sherry Butt.
Now, a single malt from Clynelish is not necessarily what I think of when it comes to springtime but all the more I am excited to give this one a try.
Facts
| | |
| --- | --- |
| Name: | Clynelish 1996 'Single Cask Seasons – Spring 2015′ |
| Bottler: | Signatory Vintage |
| Bottling Series: | Single Cask Seasons |
| Bottled for: | Kirsch Whisky Import |
| Distilled: | June 1996 |
| Bottled: | March 2015 |
| Age: | 18 Years Old |
| Category: | Single Malt Scotch Whisky |
| Distillery: | Clynelish |
| Cask Type: | Refill Sherry Butt |
| Cask No: | 6511 |
| No. of Bottles: | 676 |
| Strength: | 49.9% vol. |
| Colored: | No |
| Chill Filtered: | No |
Nose
Candle wax dripping down on oranges and cherries. Probably from more than one candle because the waxiness is indeed pretty strong. A sea breeze comes in and carries with it the smell of seaweed and brackish water. Underlined by touches of peaty earth. There is also smoked beef, dried flowers and sherry in the background.
Taste
Full-bodied and oily with a sweet fruitiness of strawberries (lots of), cherries and raspberries. Rock sugar. Again a lot of liquid wax. Followed by white pepper, dry earth and ash. The sherry is present at all times.
Finish
Long and fruity with cherries. Candle smoke. A bit peppery and drying towards the end.
Overall
Not sure if this a typical spring-like whisky for me but this is a pretty excellent dram nonetheless. A stunning combination between fruitiness, spiciness and waxiness.
Score: 92 / 100
Sample provided by whic.de