Caol Ila 2001 Hermitage Wood Finish (Gordon & MacPhail 'Private Collection')
Peaty Friday Episode 17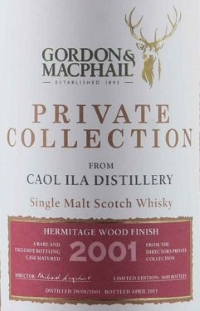 Today's episode is my 100th review here on dramlicious.com! And what would be better than to celebrate this special occasion with a special whisky?
This Caol Ila 2001 is part of Gordon & MacPhail's 'Private Collection',
a range of single malt whiskies personally selected by the Directors of Gordon & MacPhail. Each is of exceptional age and rarity, and of outstanding character and quality.
Now, I don't think that 13 years are "exceptional" old for any single malt, but I don't want to spill the beans. What makes this single malt so special is its 18 month long finish in casks Hermitage wine casks. Hermitage is a wine appellation in the northern Rhone valley in France and is famous for its red wine made from the Syrah grape.
Facts
| | |
| --- | --- |
| Name: | Caol Ila 2001 |
| Bottler: | Gordon & MacPhail |
| Bottling Series: | Private Collection |
| Distilled: | 29.08.2001 |
| Bottled: | 14.04.2015 |
| Age: | 13 Years Old |
| Category: | Single Malt Scotch Whisky |
| Distillery: | Caol Ila |
| Cask Type: | Hermitage Wine Casks Finish |
| No. of Bottles: | 3600 |
| Strength: | 45.0% vol. |
| Colored: | No |
| Chill Filtered: | No |
Nose
Pleasant and quite strong aroma of smoked ham, accompanied by delicate peat smoke and a fine summer-like sweetness. Followed by dark cherries, strawberries and red berries. Overall not as winery as expected which is not a bad thing in my books. Hints of iodine in the back.
Taste
Unexpectedly strong given the 45%. A very delightful, sweet peat smoke balanced by toffee, strawberries and raspberries. Hints of oak and rose pepper.
Finish
Long. Again sweet smoke. Red berries covered in dark chocolate.
Overall
A pretty superb dram! The wine finish plays more of a support role which I really like. A wonderful combination between smoke and a summer-like sweetness of red fruits.
Score: 90 / 100