Mortlach 1990 Cask 6075 (SV 'Cask Strength Collection')
Tasty Tastings Episode 50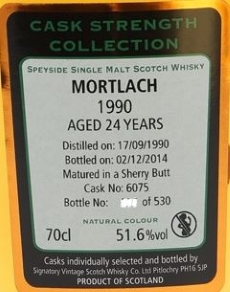 It's not that long that the only official Mortlach bottling was a 16 Years Old as part of the (now discontinued) Flora & Fauna series. But that changed pretty recently when they introduced a whole new range. This new range consists of a NAS called 'Rare Old', a 18 Years Old and a 25 Years Old. All three expressions are predominantly matured in ex-bourbon barrels and are bottled at 43.4% ABV. However, all three of them have one more thing in common: They ain't cheap. The entry level 'Rare Old' (marketing nonsense as its best) costs around 60€, the 18 Years Old costs about 300€ and if you want to call a bottle of the  25 Years Old your own, you need to have really deep pockets. The price tag for a single bottle is around 750€! Now keep in mind, that all three bottlings are only half liter. It is safe to say that those new expressions are not aimed at the average Mortlach fan. 
Lucky enough, there are independent bottlers like Signatory Vintage. The Mortlach 1990  from their 'Cask Strength Collection' was fully matured in a sherry butt for 24 years. And the best thing: At 150€ its only a seventh of the price of the OB 25 Years Old (price per liter).
Facts
| | |
| --- | --- |
| Name: | Mortlach 1990 Cask 6075 (SV 'Cask Strength Collection') |
| Bottler: | Signatory Vintage |
| Bottling Series: | Cask Strength Collection |
| Distilled: | 17.09.1990 |
| Bottled: | 02.12.2014 |
| Age: | 24 Years Old |
| Category: | Single Malt Scotch Whisky |
| Distillery: | Mortlach |
| Cask Type: | Sherry Butt |
| Cask No.: | 6075 |
| No. of Bottles: | 530 |
| Strength: | 51.6% vol. |
| Colored: | No |
| Chill Filtered: | No |
Nose
Very subtle sherry sets an interesting counterpoint to more "darker" notes of earth, dusty oak and coffee beans. Dried berries. And sure enough, there is dried beef in the background.
Taste
Thick and chewy. Starts with a lot of sweet caramel but turns into a real spice bomb after a few seconds. Also very dry now. The spiciness gets less with time and milk chocolate as well as meat come to light.
Finish
Long. Dry but also a bit sweet. A reasonable portion of oak followed by hints of menthol and fruits.
Overall
Not an easy sipper! Interesting, but a little bit all over the place.
Score: 85 / 100
Sample provided by whic.de