Teeling 15 Years Old The Revival
Tasty Tastings Episode 69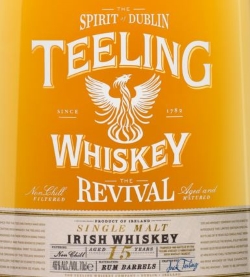 Teeling is now officially back on the Irish whiskey landscape, and so is Dublin! Teeling's distillery is the first to open in 125 years in the Irish capital (hence the byname 'The Revival'). In order to celebrate this special occasion, they released the Teeling 15 Years Old The Revival, a single malt entirely matured in ex-rum barrels. Yeah, you read right.  No finish, but a full 15 years in barrels that previously held not further specified rum.
Facts
| | |
| --- | --- |
| Name: | Teeling 15 Years Old The Revival |
| Vintage: | 1999 |
| Bottled: | October 2015 |
| Age: | 15 Years Old |
| Category: | Single Malt Irish Whiskey |
| Cask Type: | Ex-Rum Barrels |
| No. of Bottles: | 10,000 |
| Strength: | 46.0% vol. |
| Colored: | No |
| Chill Filtered: | No |
Nose
Tropical fruits galore! Pineapples, papayas, mangoes and banana chips, combined with lots and lots of cane sugar. With some time, vanilla comes to light, together with apples, orange zest and a whiff of cinnamon. The rum influence is there, but it's rather subtle and definitely not overpowering.
Taste
The arrival on the palate is unexpected dry and the alcohol is a bit too sharp at first. The rum influence is way more noticeable now. Peaches, pineapples, overripe bananas and dried cherries, along with cane sugar and hints of vanilla.
Finish
Rather medium than long with a drying warmth. Oily and spicy with a fruity touch.
Overall
Don't expect a heavy rum monster, despite the super long maturation in ex-rum barrels. This is a very fine Irish whiskey with a lovely fruitiness  and a distinctive, but not overdone rum touch. Only the finish could use a little more finesse.
Score: 86 / 100