Arran Smugglers' Series Vol. I 'The Illicit Stills'
Peaty Friday Episode 28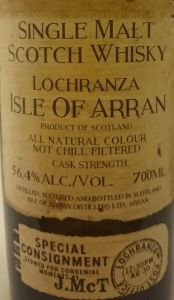 The Illicit Stills is the first release in Arran's new The Smuggler's Series, a trilogy which pays tribute to the rich history of whisky distillation on the island. Volume 1 has a
robust body and a heavier peat influence more redolent of the whisky produced on the island in days gone by.
Unfortunately, this bottling comes without an age statement, but at least it has very detailed information about the type of casks used:
| | |
| --- | --- |
| un-peated stock | matured in 600 liters port pipes |
| un-peated stock | matured in 250 liters sherry hogshead |
| un-peated stock | matured in 200 liters barrels |
| peated stock (50 ppm) | matured in 200 liters barrels |
| peated stock (14 ppm) | matured in 200 liters barrels |
And even though I usually don't pay too much attention to the packaging, I really really love this one. Seriously, I think it's just great, although it's part of the reason why this bottling is priced the way it is (about 120€ to 140€ on release).
Facts
| | |
| --- | --- |
| Name: | Arran Smugglers' Series Vol. I 'The Illicit Stills' |
| Bottled: | 16.09.2015 |
| Age: | NAS |
| Category: | Single Malt Scotch Whisky |
| Distillery: | Arran |
| Number of bottles: | 8,700 |
| Strength: | 56.4% Vol. |
| Colored: | No |
| Chill-Filtered: | No |
Nose
A bit youngish, but all in all pleasant and rounded. The alcohol is well integrated. Some sweetish peat smoke right off the bat, not too heavy, just a hint. A complex fruitiness emerges with notes of plums, sweet oranges, dried fruits and strawberry yogurt. Next come notes of vanilla, sponge cake, roasted almonds in white chocolate and charred oak, followed by coastal elements.
Taste
Full-bodied, strong and very intense. Red and yellow plums as well as sweet red fruits are finely balanced by a mix of white pepper, dying embers and ash. Peach flavored green tea and sweet white grapes come along. Gets pretty spicy and oaky towards the end.
Finish
Long with lots of peat smoke and wood fire ash. Dried apricots and citrus tea, joined by maritime notes.
Overall
I think the peat and the port are both too loud and cover a bit too much of the distillery character. That being said, I really enjoyed The Illicit Stills overall. It's a full-bodied, pleasantly intense Arran, although it's missing that little something extra in my opinion.
Score: 85 / 100