Teeling Single Malt 2014
Tasty Tastings Episode 12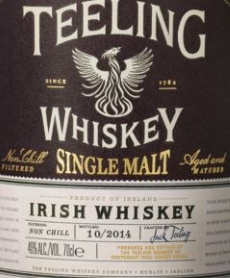 This Single Malt is the third and latest addition to the core range of Teeling. The two previous releases were Teeling Rum Cask, a Blend finished in rum casks, and Teeling Single Grain, a Single Grain finished in wine casks. I will review both of them sooner or later here as well.
But let's go back to the Teeling Single Malt for now. The Whiskey is a NAS but is made from a range of different ages including 23 years old malt whisky. Five (!) different cask types were used for maturation, including Sherry, Port, Madeira, White Burgundy and Cabernet Sauvignon. It will be interesting to see how good all those different cask types work together – "the more the merrier" is not always true when it comes to whisk(e)y maturation, at least in my opinion. Like the rest of the Teeling whiskeys, this Single Malt is bottled at 46% with no chill-filteration. Now that is something I like about Teeling right off the bat. I wish more distilleries would follow suit (minus the coloring of course). 
Facts
| | |
| --- | --- |
| Name: | Teeling Single Malt 2014 |
| Bottled: | October 2014 |
| Age: | NAS |
| Category: | Single Malt Irish Whiskey |
| Distillery: | Teeling |
| Cask Type: | Sherry, Port, Madeira, White Burgundy & Cabernet Sauvignon |
| Strength: | 46.0% Vol. |
| Colored: | Yes |
| Chill Filtered: | No |
Nose
Ripe bananas, almost overripe. Honeydew Melon. Than a touch of sweet sour white grapes. Also a winy note. Malt and vanilla infused honey. The second wave is more fruity. Green apples.
Taste
Pepper. Loads of. A true pepper shock wave. After the detonation, sweet melons come to light but the pepper is still noticeable in the background. Then Vanilla creme with a bit too much cinnamon.
Finish
Long. spicy, peppery.
Overall
What a spicy agenda we have here! Enjoyable without any knick-knacks.
Score: 83 / 100