GlenDronach 12 Years Old Sauternes Finish
Tasty Tastings Episode 17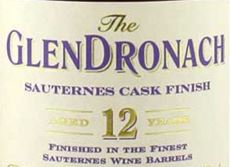 Earlier today, I already reviewed GlenDronach 14 Years Old Sauternes but now it is time for its successor, GlenDronach 12 Years Old Sauternes.
So without further ado, let's see what difference two years can possibly make.
Facts
| | |
| --- | --- |
| Name: | GlenDronach 12 Years Old Sauternes |
| Age: | 12 Years Old |
| Category: | Single Malt Scotch Whisky |
| Distillery: | GlenDronach |
| Cask Type: | European Oak, Finish in Sauternes Casks |
| Strength: | 46.0% Vol. |
| Colored: | No |
| Chill Filtered: | No |
Nose
Very fruity with mashed bananas, fresh melons, pure orange juice and red apples. Sweet white wine with hints of tannins. Undertones of flowers and floral vanilla.
Taste
Creamy and malty. The sweetness is nicely balanced by toasted oak and perhaps even a few tannins. Overall not as sweet as expected. Lemon pepper and bitter orange zest from an interesting contrast and leave behind a certain prickle on the tongue.
Finish
Long. Citrus and vanilla. Hints of oak.
Overall
A tricky one! Starts as a pretty typical dessert-like whisky but then transforms itself into something more complex and rounded. Nice curveball! Very lovely and enjoyable.
Score: 87 / 100