Yamazaki Distiller's Reserve
Worldwide Wednesday Episode 5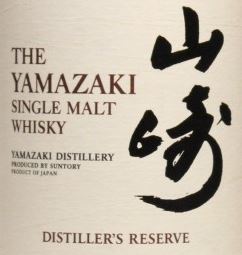 About a year ago (Spring 2014) Suntory added two NAS single malts to their core range, called Yamazaki Distiller's Reserve and Hakushu Distiller's Reserve. Both releases are supposed to showcase the specific styles of Suntory's two distilleries, Yamazaki and Hakushu. All casks have been hand selected by Shinji Fukuyo, the Master Blender at Suntory.
The Yamazaki Distiller's Reserve was matured in sherry, wine (some sources say Bordeaux) and mizunara (Japanese oak) casks.
Right now prices for age stated single malts from Yamazaki are rising to new all-times highs so let's see if this rather reasonably priced bottling can keep up with those.
Facts
| | |
| --- | --- |
| Name: | Yamazaki Distiller's Reserve |
| Age: | NAS |
| Category: | Single Malt |
| Distillery: | Yamazaki (Suntory) |
| Cask Type: | Sherry, Wine & Mizunara Casks |
| Strength: | 43.0% Vol |
| Colored: | Yes |
| Chill-Filtered: | Yes |
Nose
Very fruity but light. Plenty of white peach. A whiff of strawberries. More red fruits. Hints of coconut. I cannot help myself but this reminds me of medium sweet rose wine. More in the background a fine-tuned sweetness of honey. Raisins. Also a woody touch. Nutmeg.
Taste
A bit watery on the palate. A subtle honey sweetness. Again fruity, especially white peaches, balanced by a light spiciness. Hints of oak.
Finish
medium long and dry, once again a bit of oak with a minty note
Overall
Simple but pleasant. Do not expect any fireworks.
Score: 84 / 100