Glenfiddich 19 Years Old 'Age of Discovery' Red Wine
Tasty Tastings Episode 36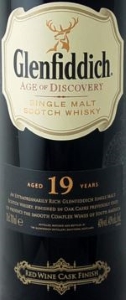 Today's tasting lineup includes all three 'Age of Discovery' expressions from Glenfiddich. Although originally released only for travel retail, all three of them are nowadays relatively widely available in online shops as well (at least here in Germany).
The most recent release of this series is a 19 Years Old finished in casks that previously held South American red wines,
to commemorate the 1831 voyage of the HMS Beagle. The Beagle travelled around the globe and landed on the east coast of South America, allowing Charles Darwin to collect fossils that would lead to the development of his famous theory of evolution. The HMS Beagle's voyage lasted nearly five years. Darwin spent much of the trip travelling on land to collect specimens of plants, animals and fossils – making long expeditions to the interior of Argentina – now famous as a wine-growing region.
Facts
| | |
| --- | --- |
| Name: | Glenfiddich 19 Years Old 'Age of Discovery' Red Wine |
| Age: | 19 Years Old |
| Category: | Single Malt Scotch Whisky |
| Distillery: | Glenfiddich |
| Cask Type: | bourbon casks, finish in Malbec, Merlot and Cabernet Sauvignon casks |
| Strength: | 40.0% Vol. |
| Colored: | Yes |
| Chill Filtered: | Yes |
Nose
Dark, rich red fruits with hints of vanilla. Followed by traces of dusty oak and mint.
Taste
Spicy but sweet with sugared red berries and again hints of vanilla. Some slightly bitter oak in the back. All in all, tastes like a relatively fruity and sweet red wine to me.
Finish
Medium, pretty dry and a bit bitter. Once more red grapes.
Overall
Unfortunately, this expression does not do much more than showcasing the casks it was matured in without any additional layers of complexity or variety. And at the risk of sounding like a broken record: the low strength is not doing this series any favor.
Score: 81 / 100