Glenfiddich 19 Years Old 'Age of Discovery' Bourbon
Tasty Tastings Episode 35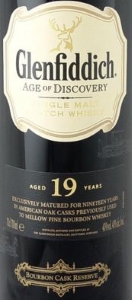 Today's tasting lineup includes all three 'Age of Discovery' expressions from Glenfiddich. Although originally released only for travel retail, all three of them are nowadays relatively widely available in online shops as well (at least here in Germany).
The second release of this series was a 19 Years Old fully matured in American bourbon casks, inspired by the time when riverboats transported bourbon casks down the Mississippi to New Orleans. Furthermore, it is the first ever Glenfiddich exclusively matured in bourbon casks.
Facts
| | |
| --- | --- |
| Name: | Glenfiddich 19 Years Old 'Age of Discovery' Bourbon |
| Age: | 19 Years Old |
| Category: | Single Malt Scotch Whisky |
| Distillery: | Glenfiddich |
| Cask Type: | Bourbon casks |
| Strength: | 40.0% Vol. |
| Colored: | Yes |
| Chill Filtered: | Yes |
Nose
A very "middling nose" with a good balance between the bourbon influences (piles of vanilla, a bit of toffee and two hands full of fresh peeled bananas), the for Glenfiddich pretty typical "apple-ness" (although here it is more apple crumble) and a really noticeable citrus note. But there is even more to be found here: cinnamon toast with orange marmalade and slight traces of oak (albeit not smoky like the official tasting notes say).
Taste
Very smooth, light and sweet. Baked apples and baked pears with caramel sauce on vanilla ice cream and a few cinnamon chocolate sticks in between.
Finish
Medium, a bit dry, a bit spicy. More oranges
Overall
Not the most complex, but well done and agreeable. Only the finish drops off too quick. Would have benefited overall from a higher strength.
Score: 85 / 100